On Saturday, Simon Cazal, a Paraguayan LGBT activist was included in a gathering of representatives of civil society invited by the bishops to attend a meeting with Pope Francis.

The substantive importance of this meeting is slight. Cazal was just one specifically gay person out of 1600, with absolutely no discussion of LGBT issues. The symbolism however, is hugely important. This is just one example among many from recent years, of bishops in many countries showing greater openness to recognizing our existence, and in some cases listening to us about our experience and perceptions. Some of these meetings have been publicly reported, others have not – but not many years ago, such meetings were simply unheard of.

The Catechism promises "respect, compassion and sensitivity" for LGBT people – a promise seldom observed in practice, especially the "sensitivity". Respect and compassion can be simply asserted, but sensitivity must be worked at, and demonstrated. The lack of sensitivity is on clear display in every apology, where someone says, "I did not intend to offend". The only way to avoid giving unintentional offence, is to do develop an understanding of how the words will be heard – and that requires listening to the people affected, to really learn about their concerns and perspectives.

There's an enormously long way still to go, but every journey begins with the first steps. The journey to full inclusion in the Catholic Church has at least begun,
Bondings 2.0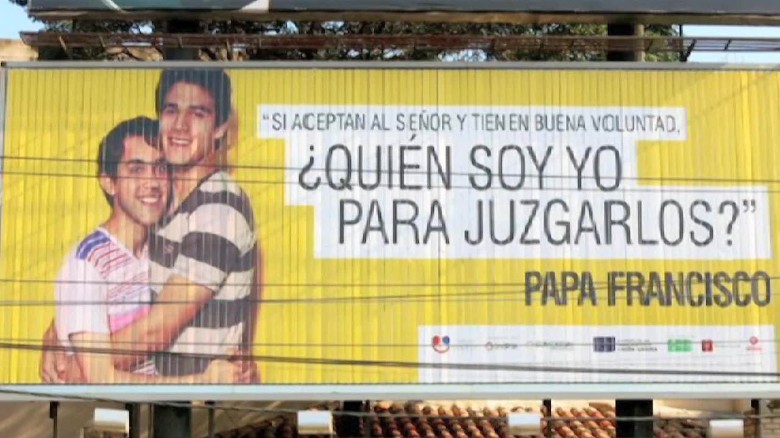 Paraguyan billboard of Pope Francis' famous 2013 quote. Translation: "If they accept the Lord and and they have good will, who am I to judge?"
The leader of Paraguay's national LGBT-rights organization is very pleased at the way his inclusion in a meeting of other civic leaders with Pope Francis has gone.  Simón Cazal, the director of SOMOSGAY ("W,e Are Gay"), was invited by the Paraguayan bishops' conference to be part of a papal audience of 1,600 leaders from Paraguayan organizational leaders when Pope Francis visited the capital city of Asunción this weekend.
Yet opinion seems divided among some LGBT leaders in Paraguay and abroad over whether it was a good thing for Cazal to agree to participate in the meeting.
According to The Washington Blade, Cazal, who married his husband in Argentina after it became legal because of a law which then-Cardinal Bergoglio [Pope Francis] opposed, offered a very positive and hopeful response to…
View original post 1,179 more words