Bondings 2.0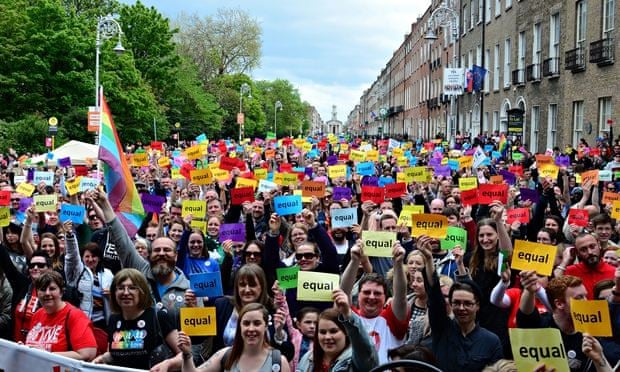 Thousands of Irish "Yes" campaigners rally in Dublin just days before today's referendum.
Irish voters will decide today whether to legalize same-gender marriage in this most Catholic of nations. If they succeed, the vote would be the first popular referendum in the world to endorse marriage equality.
Catholic supporters of the "Yes" campaign have been prominent and manifold, with the unsurprising exception of the nation's Catholic bishops. Many observers are noting that the stature of Ireland's once powerful church hierarchy is now falling.
Catholics' outspoken opposition to the hierarchy's position reveals an Irish church undergoing fundamental shifts, what Daily Beastcolumnist J.P. O'Malley describes as:
"[T]he complete collapse of the old guard of archaic, socially-repressive Catholic institutions that have dominated Irish society since the Free State was formed in 1922…What this referendum represents is a seismic shift in the zeitgeist: progressive-modern-Ireland is finally breaking free from the shackles of a de-facto Catholic State that…
View original post 939 more words